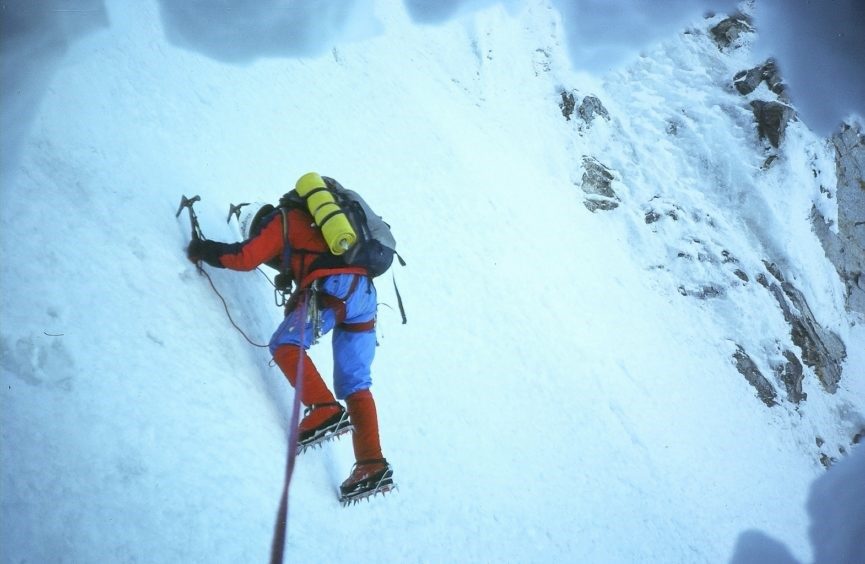 Joe Simpson (25) & Simon Yates (21) went to Peru in 1985 aiming to do something never done before … climb the West face of a 6,200m mountain known as Siula Grande, high up in the Peruvian Andes.
The two Brits were planning to do it in what mountaineers call 'alpine style," which means carrying all their equipment, food and sleeping kits with them.  But climbing in this way meant they did not set up ropes and clear routes they could use to get back down in a hurry if needed.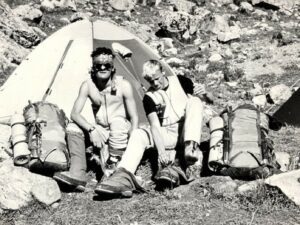 They reached the peak after 2.5 days and things looked to be on track, but on the way down everything would change dramatically.
Joe slipped, fell, and broke his right leg in a very bad way, crushing his tibia into his knee joint. They were still at high altitude with no chance to call for help. Nobody even knew where they were!
Joe thought Simon had no choice but to leave him behind to die. Instead, Simon came up with an idea for how they could descend the mountain together by connecting their ropes to create a 300 yard rope. Simon would lower Joe down and then Joe would have to stand on his good leg to give Simon enough slack to unclip the rope and move down. This was the theory. The practice was much harder.
They ran out of fuel for their stove and were not able to melt snow for drinking water. With storm conditions worsening and darkness upon them, they decided to continue the risky decent into the night, trying to reach the glacier about 900m below. They made good progress despite Joe's leg occasionally getting painfully stuck. But then, Simon lowered him over an unseen cliff edge. Joe was hanging in mid-air over a deep crevasse with only Simon's strength holding him up and preventing him falling.
Joe tried to climb up the rope, but to no avail. Both screamed their lungs out, but they could not communicate with each other. The storm was too strong. Simon held Joe for several hours while slowly sliding towards the overhang and beginning to lose his grip.
He had to make one of the most difficult decisions of his life. He cut the rope to his partner to avoid being pulled off the cliff himself. Joe plummeted nearly 20m into the deep crevasse. This surely was the end, but somehow Joe regained consciousness and miraculously survived the fall.
The next morning, Simon saw the deep and deadly crevasse. He called out, but got no answer from Joe, so he thought his friend was dead. Devastated and with no other option than to try and save his own life, he continued his lonely descent in despair.
Joe was stuck with his badly broken leg deep inside the crevasse. He was about to give up and die when an inner voice told him … "You have to think straight. You have to think straight and keep making decisions."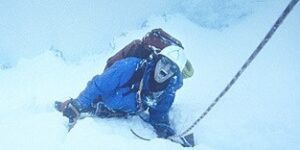 Thinking creatively despite the harrowing circumstances he found himself in, he decided to lower himself deeper into the crevasse. Against all odds, it offered a way out. Several hours later, after incredible physical exertion, he was lying on the white snow, enjoying the sunlight like he had never seen it before.
But he was still in grave danger. He faced a 9km downhill crawl, dragging himself backwards on his backside through terrain strewn with boulders and boobytrapped with more crevasses. He was dehydrated, in agony, hungry, and doubtful whether Simon would still be at the base camp.
But he kept telling himself … "Think straight, think straight and keep making decisions."
He began to set tiny targets for where he wanted to be in 20 minutes time. Sometimes, this was only a few metres away. But he kept setting these small, achievable goals. And over and over, he was able to reach them.
After nearly three horrendous days of setting and reaching tiny goals with no food, nearly no water, and having lost almost a third of his body weight, he arrived near the camp site where they had started their climb 7 days ago.  He was not able to move any further. Delirious and with his last bit of energy, he screamed Simon's name.
Simon, who had planned to leave that Morning, heard his friend, and together they made it the rest of the way down. Joe had six surgeries over the next two years, and despite the doctors saying he would never climb again, he did.
Why am I telling this story?
In our current situation, everything is up in the air. Nothing much is certain. Nobody knows when we will reach our "base camp of a new normal." We have to find our way out of a difficult situation. That chastening reality has Joe's mantra ringing in my ears: "Think straight and keep making decisions!"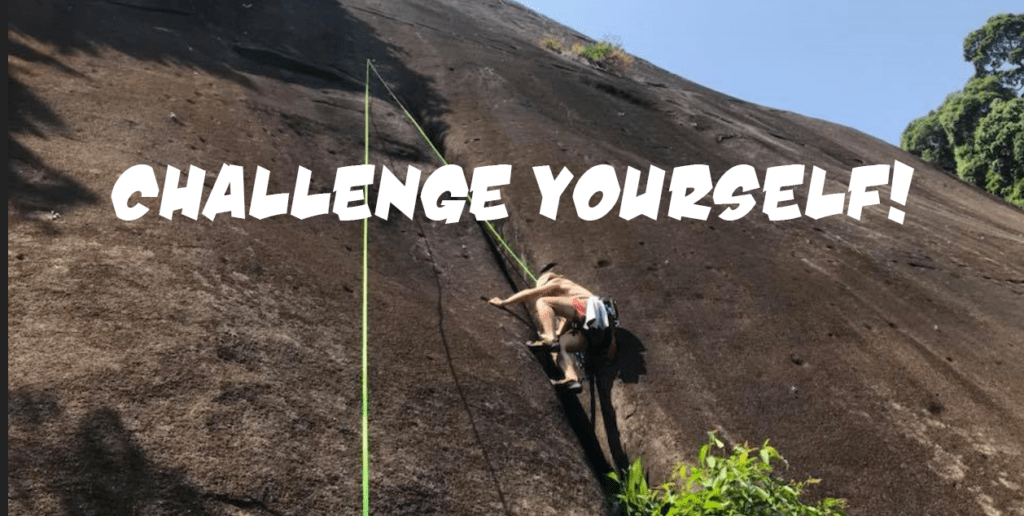 As we keep moving in and out of lockdowns through very uncertain and uncharted terrain, how about setting some simple, tiny goals like Joe did?
Think about what you can accomplish or what situation you can improve by tomorrow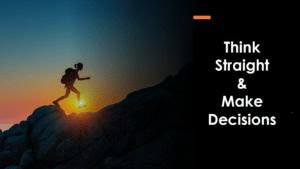 morning, the coming week, or next month in the face of the limitations we're now enduring.
It doesn't matter how modest the goals are, as long as you keep reaching them and creating new ones. Heading in the right direction and keeping going … that's all that really matters.
Think straight and, above all, keep making decisions.
P.S: Simon and Joe's true story can be found in the book, movie, and play "Touching The Void."   Their experience is regarded by mountaineers as one of the most remarkable instances of survival against the odds ever recorded.
-Joerg