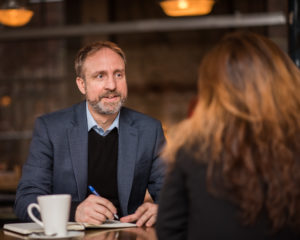 Executive coaching helps when despite being very well connected you may sometimes feel lonely or isolated and lack a trusted advisor with whom you can "think aloud" to brainstorm your ideas and strategies. Thinking and planning are enhanced by cross-pollination of knowledge, ideas and skill sets.
Whether it's an issue in the past, present or future, whether it is emotion, thought or behaviour based, the first step for me is to really listen to you. My training in coaching and therapeutic methods allows a quicker and deeper understanding of your lived experience.
To see the issue through your eyes, you must feel heard, valued and safe. I can then offer the theory, science and tools to define, illuminate and help you to move forward.
This is how I see Executive coaching, not as a ready-made, off-the-shelf-solution but as personal and bespoke to you. Having a wide toolbox of approaches gives you the optimum chance of getting what you truly want and deserve. My person-centred psychotherapeutic training values your personal resources and helps you to identify and harness them.
After all, would you try to diagnose an issue in your car's engine management system with a YouTube video and a spanner?
This is where the tools of Executive Coaching combined with training in human understanding and behaviour allow us to work together to reduce the symptoms in the first instance and then to uncover and address the root cause. This coach-client collaboration allows us to co-create far more effective results.
So don't suffer in silence. Don't live a life in discomfort where you feel like you are getting less than the full enjoyment of each day at work and at home.
Testimonial:
"I was facing a patch of dullness in life – work/business was all doing quite OK, but still I had restlessness in me and was looking for answers…. After every session with Joerg I felt a great level of comfort and happiness. He gave me a variety of interesting challenges to deeply reflect on my life and work. His whole methodical approach was built on a wealth of knowledge in the field of coaching but also on his own life experience which made him really trustworthy for me. Joerg really loves people and is deeply interested in them, which makes him a great coach without a doubt. We are still in contact after all this time and meet occasionally and he gives me a big smile when I explain where I stand – so he is really into it!"
Johannes Hille, Managing Director Flintec Singapore