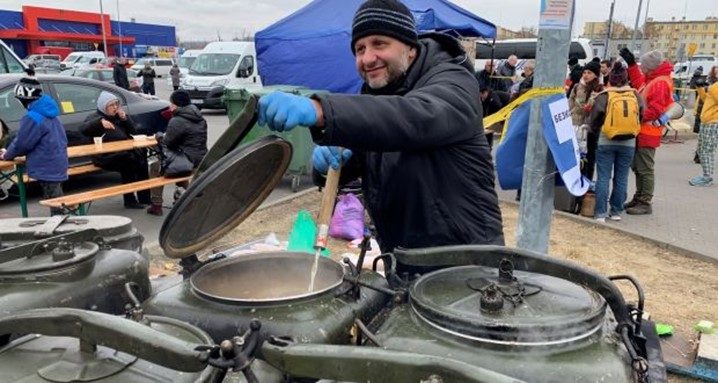 Quite some time ago I came across the following song by the German songwriter Gerhard Schöne. It takes the form of a parable.
Many years ago, a man arrived at the gateway to heaven. As he had lived a good and humble life, he was pleased to stand outside the glowing gates of heaven, ready to ascend into the light and love of the afterlife. But there was a thought he struggled to let go of.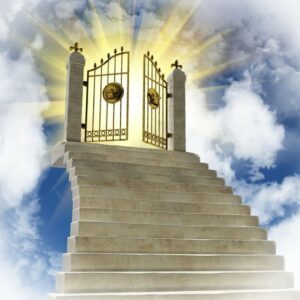 The gatekeeper, being quite observant, noticed his hesitation and asked the man: "What is bothering you, my friend? You seem troubled. Is there unfinished business?"
"Not really," said the man. "Everything is sorted just fine down there, but I find myself wondering what hell is like. I never really believed in heaven or hell all my life, but now, I am really wondering what it looks like."
"You may be surprised." The Gatekeeper smiled: "As with all great truths, it's not as simple as you may think, yet also, far simpler. Let me show you."
With a move of his hand, both found themselves at the gateway to hell. To the deceased's surprise, it was nearly identical to the entrance to heaven. He could suddenly smell an array of delicious foods and hear the kling-klang of cutlery. As the doors opened, he saw a scene of magnificent beauty.
It was an enormous banquet hall, so wide and so long that there were no walls to be seen. Golden chandeliers hung over the large tables, casting a warm glow on the diners, who were there in gigantic numbers. The most beautiful music wafted in from all corners and the smell of the food was so mouth-watering he could nearly taste it.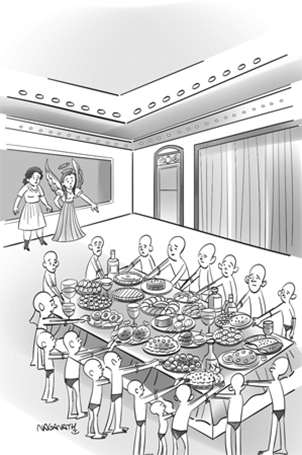 "This is Hell?", the man asked, as he could not believe his eyes.
"Yes", the gatekeeper replied, gently nodding his head. "But it's not what it seems. Look closer."
The man took a close look at the tables and suddenly noticed something disturbing. The cutlery was not separate from the guests but extended directly out of their arms. Each diner had two spoons extending directly from the place where he had expected to see their hands. But the spoons were so long, it was impossible for them to get food into their own mouths.
With dawning horror, he began to realize that the people were starving, as they tried in agony to get pieces of this wonderful food into their mouths. But they couldn't and grew hungrier by the hour, yet they continued to toil helplessly.  He could hear them sobbing and crying, feeling the desperation and hopelessness of their situation. He shivered. "Ugh. I've seen enough. Please take me away from here."
In a blink, they were back at the gates of heaven. "Okay", he said, "I'm ready, can we please go in?"
And so, the gatekeeper took him into heaven. To his astonishment, it was the exact same scene. The giant banquet hall, the music, the food, and… worst of all… the cutlery as appendages. He looked down. His lower arms had become two grotesquely long spoons, each incapable of reaching his mouth. He was filled with fear and was about to cry out when suddenly he felt the Gatekeeper's hand on his shoulder, gently squeezing. "Look closer…" came the whisper.
Looking up, he noticed that the mood of the diners was completely different to those in hell. There was a profound atmosphere of love, sharing, camaraderie, and delight that permeated the entire hall.  Suddenly, tears began to fill his eyes. Everyone, everywhere, was dining with smiling and bright faces, the air filled with laughter and warm with joy.
Now, what was different to hell?
In heaven, the diners were feeding each other by dipping into the delicious food and providing the long spoons to other fellow diners across the table. No one was starving. Everyone was giving and receiving.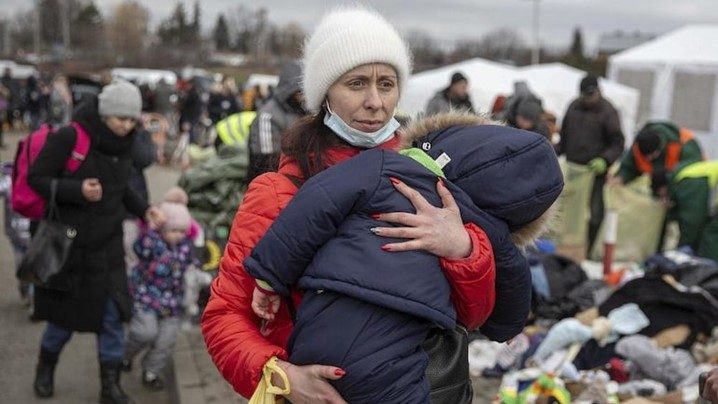 Many of us have recently watched the disturbing pictures of the war in Ukraine. At the point of this writing, already more than 3 million people, mainly women and children, have left their country searching for safety and shelter.
While this war brings out the ugliness of humanity, it also shows the unbelievable caring and support of hundreds of thousands of volunteers who have come together to help these fugitives. I am stunned, especially by the Polish people, who have already absorbed more than 2 million Ukrainians, offering them food and shelter when these people had nowhere else to go. And all the other European countries have also stepped up to provide humanitarian support.
I personally feel deeply humbled and touched by this wave of support, where ordinary people reach out to provide a helping hand and food to others deeply in need. As I witnessed this, Gerhard Schöne's parable of the long spoons came to mind, and I wanted to share it with you.
It's my way of saying a heartfelt thank you to the thousands of helpers who are making a difference in these difficult times.
As the poet John Donne wrote… "No man is an island."  How true. When we become islands unto ourselves and ignore the plight of the desperate and dispossessed, we bar the gates to heaven.
Ah, but when we come together to support one another, we can create a little bit of heaven right here on earth, even in such difficult times like ours.