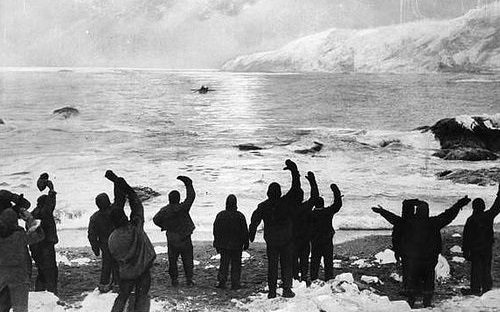 On the 5th of December 1914, Ernest Shackleton, together with 27 brave men, left South Georgia in the Southern Atlantic Ocean on a ship with the telling name Endurance.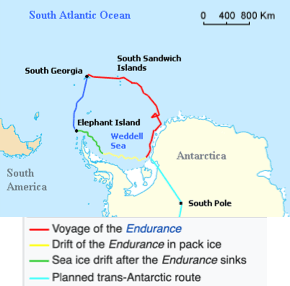 Their goal was to become the first to cross the Antarctic continent by foot… a gruelling 1,800 miles (2,900 km) journey.
But weather conditions were terrible, and on the 19th of January 1915, the Endurance became frozen in an ice floe, turning Shackleton's mission of exploration into a mission of desperate survival.
After drifting north in an icy lockdown for 9 long months, the violent movements associated with the breaking of the ice exerted extreme pressures on the ship.
On the 24th of October 1915, water began pouring in, leaving Shackleton no choice but to abandon the Endurance. For another 7 long and freezing months, with temperatures around minus 30 Degree Celsius, the crew camped on large ice floes, hoping to be carried to mainland.
But on the 9th of April, 1916, their ice floe broke into two and Shackleton ordered the crew into the three lifeboats in a desperate attempt to reach the nearest land.  After five harrowing days at sea, the exhausted men landed at Elephant Island, a deserted place far from any shipping routes, giving the men a low chance of rescue by means of discovery. But for the first time in more than 16 months spent in brutal icy lockdowns, they had solid ground under their feet. It must have felt good.
Yet they we far from safe, and so one of the lifeboats was launched on the 24th of April 1916, with Shackleton and another 5 sailors in an attempt to reach the South Georgia whaling station…830 miles (1,330km) away!
The small life boat sailed through the stormy waters of the southern ocean in constant peril of capsizing.