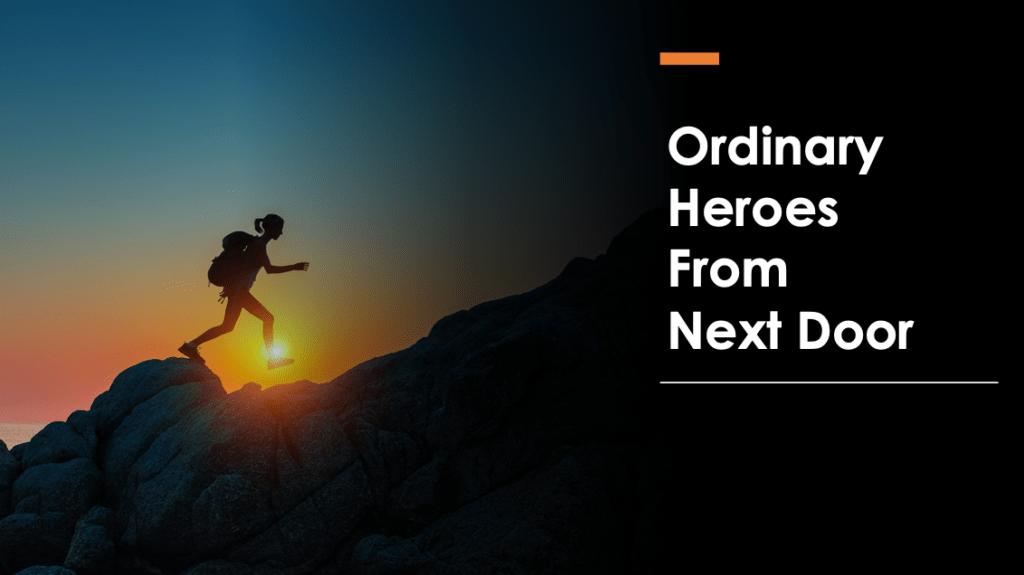 There is huge press and social media coverage on stars, celebrities and stardom. However, at the same time there is an enormous number of ordinary and unsung heroes, who provide wonderful and remarkable contributions, but never get any coverage or recognition of their moving journeys.
I would like to change that, because I believe that sharing inspiring stories of ordinary people can not only help all of us to find a little hope and motivation when things are tough, but it also provides a wonderful opportunity to provide these "unsung heroes" with an appropriate form of recognition, that they so well deserve.
Therefore, if you know anyone in your network, who is contributing in some remarkable inspiring ways, someone who never stops doing good deeds or someone who went through an amazing and inspiring journey or transformation, please reach out to me. With your help I will interview the "hero" and write up an inspiring little story which symbolises and manifests the great contributions of your "ordinary hero next door."
In the following, you can find such an extraordinary ordinary hero. Enjoy the story of Christine and feel free to reach out, if you have someone in mind who deserves a similar recognition.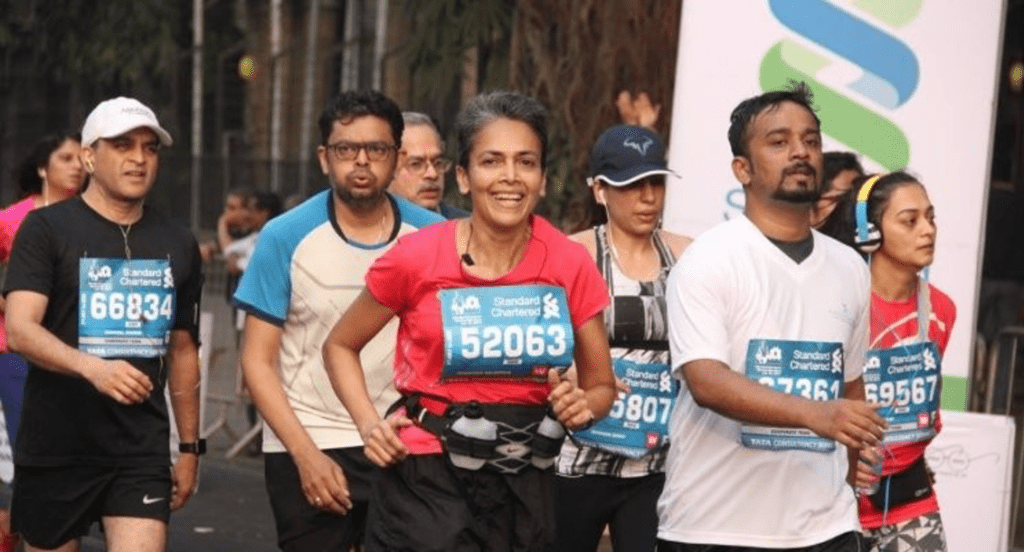 Life's purpose in two words –
The story of Mumbai Runner Christine
The following story was initially published in May 2017 and has been updated in July 2020. Rest assure Christine keeps running and running and running …!
It's 5.30am in Mumbai when Christine's alarm goes off. She gets up and hits the road shortly past 6am for her morning run. Prior to the Lockdown, she was training under Coaches Girish Bindra (Asics Running Club), Daniel Vaz (Nike Running Club) and Deepak Oberoi (Bombay Running). On Sundays she would enjoy going on long runs to different destinations along with her running buddies and then bonding with them over breakfast.
Running became Christine's passion in 2008 when her boss challenged her to run a marathon after she participated in a short charity run. A couple of years later she started training with the Reebok Running Club. From not having done any running before the age of 45, Christine became a passionate marathon runner. In January 2009 she went on to complete her first half-marathon and holds her personal best time of 2 hours and 19 minutes.
Things were going great until 2012, when disaster struck. "I only went out shopping with my sister-in-law, when we got into this tragic accident as our rickshaw was hit by a large car." She pauses, her eyes glance into the far distance and with a sad tone in her voice she continues: "Charlotte did not make it". It takes a little while before she finds her way back into our conversation and continues: "I had a brain haemorrhage, a kneecap fracture, 4 broken ribs, a punctured lung, a shoulder hematoma, and a finger fracture. I was totally shattered staying in the ICU and whilst my doctors encouraged me a lot, it was doubtful if I would ever be able to run again."
This accident clearly changed Christine's life and yet it did not. A few weeks after the accident she slowly started to walk again. With her strong will, a great team of doctors and the support of her colleagues and friends she eventually fought her way back into running mode. She successfully completed the Mumbai half-marathon in 2014 and has never stopped running since.
This February, she attempted the Tata Ultra Marathon (35 kms) and was unfortunately not able to meet the cut-off in time but is definitely going to go back again to complete it and claim her medal!
Christine has two Gunniess Book of World records participation certificates for the largest number of participants attempting to hold the abdominal plank and she recently missed getting another one in a cycling event which was cancelled.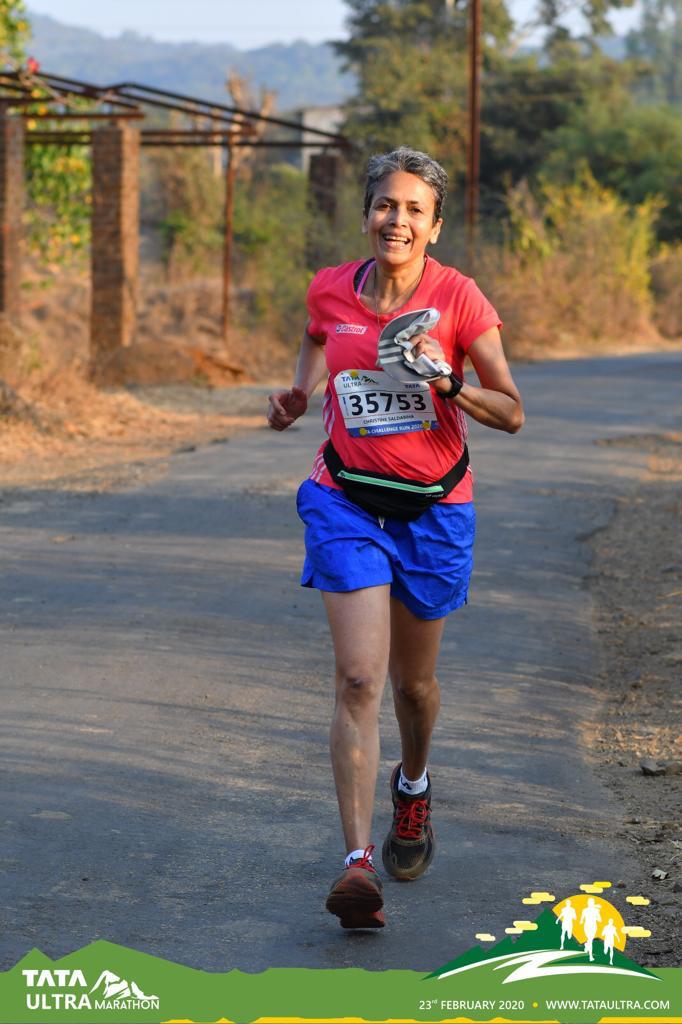 Asking her about her dreams she says in her typical humble and smiling way: "When I was in the road accident and my sister-in-law passed away, I realised how short life can be. I just want to love and serve. I want to reach out and help others."  My life's motto is "a life lived for others is a life well spent."
Christine had already completed a course in palliative care in 2006. After her accident she started to support cancer patients in the Romila Palliative Care Centre, which was opened by a cousin of hers and was named after her cousin's daughter Romila who lost the fight to cancer aged 39. Christine along with other volunteers visits cancer patients and attended a seminar about "The Crucial Dimensions of Cancer Care." She was for a while accompanying a  cancer patient during her  difficult journey of chemotherapy and the lockdown gave her the opportunity to spend half a day visiting the homes of cancer patients to help them with some food and tide them over difficult times.
Besides working in palliative care, Christine is also the Secretary of an NGO (Society of St Vincent de Paul), which reaches out to the underprivileged and provides them with ration, medical and educational assistance. Together with her NGO members she visits these poor families in their homes every week, organises get-togethers and takes them out for excursions.
Her big regret is that she did not do a formal course in nursing, however being care giver to both her parents brought her immense joy.
She nurtures all life and is also passionate about strays. Through the years she has looked after many stray dogs whom she adopted in her society. Right now she looks after one stray dog and five cats in her building. The dog has now found a place in her home as he is blind, deaf, has a heart murmur and needs to be looked after carefully.
In our fast-paced world we sometimes forget what is truly important. In my point of view, Christine teaches us a vital lesson as she speaks through her actions and lives a life full of meaning and courage.
Everyone who has met Christine will agree that she makes the world a little better wherever she is.
For me, Christine is an "ordinary-hero-next-door" as she is not only able to state her life's purpose in 2 simple and powerful words but also because she is truly living it:  TO LOVE & SERVE.
Thank You & All The Best Christine !!!!